BISHOP EMERITUS
Mar George Punnakottil. M.A.,S.T.D.,L.S.S.
Mar George Punnakottil was born on 13th September 1936 at Thazhavankunnu. After matriculation in 1953 from Infant Jesus High School, Vazhakulam he joined the Minor Seminary at Ernakulam. He did his philosophical studies at St.Joseph`s Pontifical Seminary, Mangalapuzha and theological studies at the Pontifical Urban University,Rome.
He was ordained a presbyter in Rome on 18th October1961 through the imposition of hands by Mar Matthew Kavukatt, the then Metropolitan of the archdiocese of Changanacherry.He took licentiate in the study of Sacred Scripture from the Pontifical Biblical Institute in Rome, and doctorate in Biblical theology from the Pontifical Gregorian University, Rome.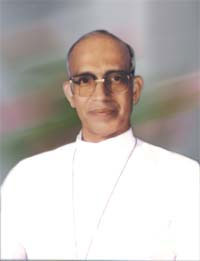 FIRST BISHOP
Mar Matthew Pothanamuzhi Ph.D., D.D.
The first one called by God to guide His people of Kothamangalam was born at Nadukara, in Arakuzhaparish, near Muvattupuzha, on December 22,1903. His primary and secondary education were at Infant Jesus High School Vazhakulam, Govt. High School Muvattupuzha, St.Joseph`s School Pavaratty and St.Mary`s High School Aluva. After finishing his school education he joined Sacred Heart Minor Seminary Aluva in 1923. His philosophical and theological studies were at Kandy Seminary, Ceylone. He was ordained a priest on October 2,1932 by Bishop G.Rocky of Tuticorin. Meantime he had obtained Ph.D and D.D.
After returning to the Eparchy, he served his own home parish Arakuzha as Assistant Vicar for a short period. Later, he was appointed as the Rector of Malankara Minor Seminary, Trivandrum. He was also the Secretary to His Excellency Mar Ivanious at that time. Later he was appointed as the Vicar General of Ernakulam Archdiocese. He held the post for ten years.Later he was appointed as the parish priest of Vazhakulam Forane Church. On July 30,1956 he was chosen as the First Bishop of Kothamangalam Eparchy. His episcopal ordination was at Rome on 18 November 1956. After serving the Eparchy meritoriously for almost two decades, Mar Pothanamuzhi retired on April 24, 1977. He passed away on February 6,1982.